Delivery details and courier partners
We process all deliveries through reputed couriers. If there is no courier service available in your area, we will ship your item via Government Registered Bookpost or Speedpost.
The moment the box is dispatched from our warehouse, you will receive a notification SMS (with a link to track your order) and email. Once dispatched, it will reach you within 3-7 business days.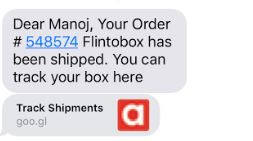 Once the box reaches your city, you will receive another SMS that it is out for delivery.

Want Flintobox for your child? Click here >>

Note: Due to the extension of lock-down announced by the Govt, all our shipping vendors are temporarily non-operational. Please be assured that your order is safe and we will do the needful to ensure that the boxes are delivered once the situation is back to normal.
Need help? No worries!
Just click here and send us a message on chat >
Or
Call us right here:
Contact number
---
---